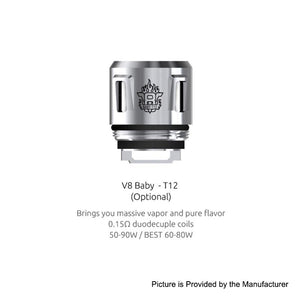 Smok V8 Baby T12 Coil
The SMOK V8 Baby-T12 coil head is suitable for SMOK TFV12 Baby Prince tank atomizer. The V8 Baby-T12 core features 0.15 ohm resistance which supports 50~90W power output (best 60~80W). This coil head will bring you massive vapor and purer flavor.
This product comes with 5 PCS in 1 pack.